To the tune of "I Left My Heart In San Francisco"...get it? Get it?
The Bigso Box of Sweden
comes from Swedish company Bigso AB, and I am in love with their boxes. I first encountered one in Goodwill - gorgeous and sturdy paper laminate file boxes that were in the surprising hue of lime green. I scooped them up, came home, and gave the banker's boxes they would replace the evil eye.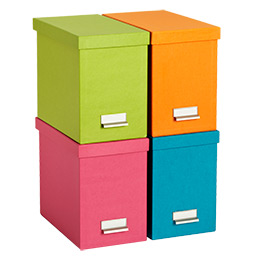 Bigso File Box in green, orange, pink and blue
We are a household with a lot of paper. This is not going to change. We own a scanner, own a shredder, we're reasonably organized in that bills are never paid late and we can easily locate our children, but we have enough paper for three families. First, I am a paper snob - so there is my stationary collection to contend with (along with a tic that makes it hard for me to send the same person a note on the same stationary twice in a row). Second, I like to keep stationary and cards that are sent to me. And third, a category of items that outnumber the first two combined, is my husband's habit of keeping every piece of paper that has crossed his path for a minimum of six million years.
I love that they don't limit themselves to white boxes with black print, like with this orange file box:
Bigso, thank you.
You made it possible to store my husband's undergraduate thesis (he is forty-four) in a container that didn't remind me of moving boxes. You've made it possible for me to store blank reams of paper without having the room resemble an aisle in Office Depot. You've made me actually
invent
reasons to
need
one of your boxes.
Yum.
Bigso File Box in Red




First image from
Modern Eco Homes
, middle from
Lincoln Stationers
, and the photo of this perfect, understated gray paper chest is from
Crate and Barrel
, but I'm not sure if they still offer Bigso. I find mine on
Amazon.